You will have landed on this page due to a joint initiative between Taranaki Retreat and I. To find out more about the Retreat head here. To understand how our paths ended crossing, read on…
This is what happens
when leading a curious life…
During my travels around New Zealand in 2018, it was getting cold in my tent and so I put out on Facebook whether anyone knew of somewhere I could volunteer for the Winter and then I would get back on my merry way.  Someone had seen Taranaki Retreat on Good Sorts, I got in touch.
Three months volunteering turned in to six months, which turned in to a discussion with the Founders as wo what needed to happen to make me stay…
I could have never imagined when I first got in touch with the Retreat, that it could turn into the beautiful opportunity it has, the beautiful setup that we have, the teamwork, the difference that is being made. I feel blessed when I think about the work we do together, the people I'm so honoured to meet, support and share the journey with.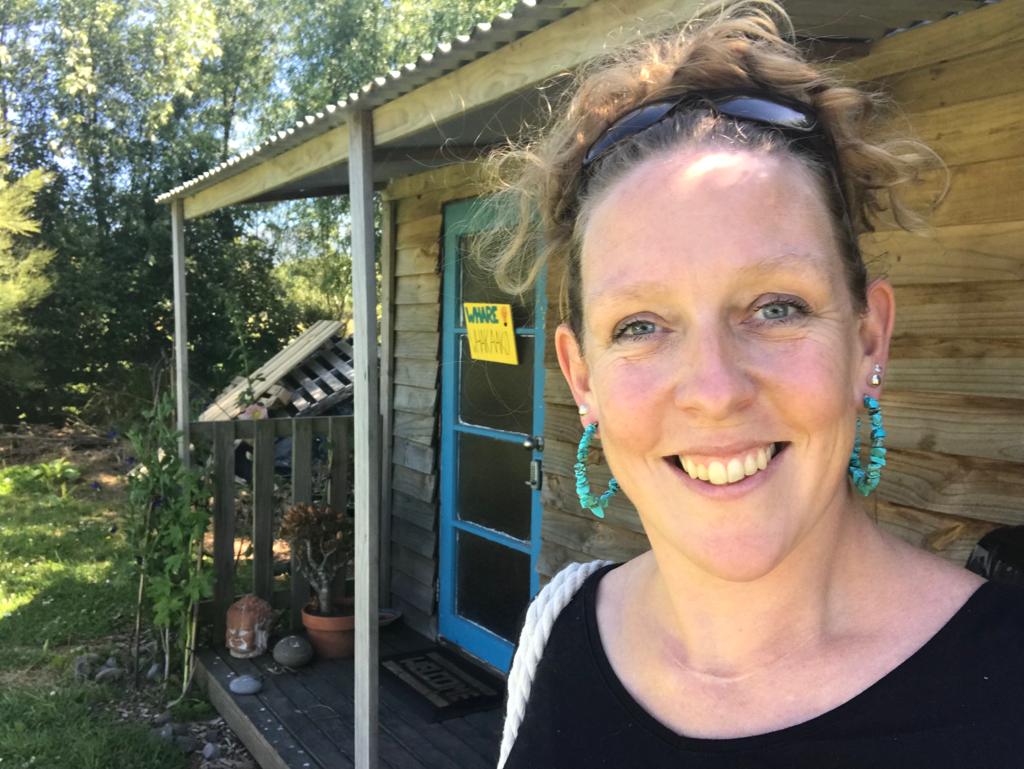 If I had a fixed plan, if I had expectations as to what I wanted out of my travels, what I thought it should 'look like', who knows if the same situation would have come up.  I believe it was from being open, from trusting the path I was on. I think trust plays a large part – trusting ourselves, our decisions, trusting the universe. The fact that I had no attachment to the outcome, I was just there for three months and that was what my focus was. 
I am now the Lead Coach at Taranaki Retreat and I work with people to uncover the beliefs about themselves that have been playing out in the past in different areas of their life.  Then, together, we start the journey of moving forward. A journey that can help people create a life very different to the one they have known for so long.  An authentic life of hope and opportunities.
Taranaki Retreat is an absolutely unpoppable bubble of love. You walk through that gate and you can't avoid it. It wraps itself around you lovingly, and when you leave? It stays in your heart.  I feel so honoured and blessed to be part of such a unique initiative.
You can learn more about Taranaki Retreat here.
Testimonials
Ok, if you are thinking about Life Coaching with Liz, just do it! It has changed my life in a short time from despair, loneliness and stuckness to joy, hope, connection. I have learned to trust, to be ok with who I am. Liz as a person and the process she uses are so easy to get on board with. I am confident that I can do little things to shift out of hard places every day, and that I can ask for and receive support when things are too big for me. Life is so much better now that I see I am in charge of it, that I am not a victim and that good things, sometimes miraculous things, do happen. That life is actually a good place to be. So if you are thinking about Life Coaching with Liz, I'd say just do it… I am so glad I did.
Liz has truly changed my life more than I could ever explain. I was living in the red zone all the time and didn't even know what my green zone was. Even with seeing a counsellor, I was still just going around in circles and not getting anywhere but Liz helped me to see all the good that I can get from life and how great life can be. For the first time in a long time, I am excited about life and living it and what I can do. I cannot recommend Liz enough. Thank you so much, you truly saved my life.
Liz has a way of getting to the crux of things and helping you to find your way forward without telling you what to do or how to do it. She empathises but doesn't indulge, challenges without confrontation and enables without taking away control. It's not always an easy journey, but the effort is worth it.
I truly believe Liz will be a great person for many others who may need a special, caring someone to talk to…. Whomever is reading this should just go ahead and reach out to her I promise that you will not be disappointed. I respect Liz to the fullest. She has put everything in to helping me to love myself, to love every day and to once again love LIFE. Most of all to love being happy again. Thank you Liz, forever thankful.
So much of our time together comes to me when I most need it… Yesterday it was about turning up, trusting the right people who have shown that they love and support me in becoming more fully me. You are one of those people Liz… The outcome of last night would have been quite different if it wasn't for your support and wisdom. Arohanui! <3
I hoped to feel better about myself, and my place in the world. I hoped to solve what felt like a massive disconnect from myself, the world and people around me. I hoped to feel alive again and reclaim something lost.  My expectations were certainly met, thanks to Liz's intuition, heart, wonderful listening ears and words of wisdom. Because she is so well-read on so many approaches to self-development / spirituality etc, my sessions with Liz could be likened to a creative artwork, where there were no boundaries, I could say anything and not be judged, and I could begin to paint my self in a new colour.
I went from feeling totally confused about where I was heading and very poor self-worth to slowly gaining it back. I built a picture together with Liz of what I wanted for my life, and what it would take to get there, such as self-care and self-regulation strategies for stress; and what aligns with my true self and my values. This helped me to let go of things that I don't want.
Hummingbird
Called this by my Great Aunty due to the hums that could be heard when I was younger and in my happy place. It seems a fit to bring it into my life again now in my logo. A hummingbird represents joy, playfulness, and adaptability. It is about enjoying life, being more present and opening up to love.